March Break Drill Team Camp!
March 26, 2018
Our Drill Team Camp is back for FIVE days with all new patterns!
Open to riders who are comfortable trotting (or more!) in a group. Camp includes daily classroom sessions and a 90 MINUTE lesson each day
MORE DETAILS
March Break Goals, Growth and Goats!
March 26, 2018
We're back for another farm fun adventure, but with a new year underway, we are adding fun activities for growth and goal setting.
MORE DETAILS
Valentine's Day Couple's lesson
February 14, 2018
Looking for a unique activity for Valentine's Day? Join us for a couple's riding lesson! Multiple dates!
MORE DETAILS
SUMMER CAMPS ARE BACK!
June 29, 2017
We're back with eight different camps to choose from this summer!

MORE DETAILS
Pony Rides and Farm Tours!
June 1, 2017
Farm is open to the public Sunday afternoons for the season! Doors open at 12 noon; Guided farm tours take place at 12:30, 1:30 and 2:30; pony rides take place indoors between 1 - 3 p.m. Rain or shine. Admission is $5; pony rides $6. Season passes available! Follow us on Facebook for more info!
MORE DETAILS
Family Fun Day 2016
October 16, 2016
Come meet our farm friends! Horses, goats, sheep, hens, pigs, cow, donkey, lama, turkeys, rooster and more! Take a pony ride, visit the critter pens, walk the interpretive trail, enjoy a scavenger hunt, arts and crafts and more! 12 noon - 3 p.m.
MORE DETAILS
Mother-Daughter Celebration
May 7, 2016
Join us for a fun-filled, quality bonding day at our first ever Mother-Daughter 'Girl Power' Workshop. We will use movement, creativity, exercises with the horses, team building and a few surprises to inspire discussion and insights about leadership, confidence and courage.
MORE DETAILS
Breaking Barriers
April 9, 2016
Join us - and the horses - for a one-day workshop where we will explore the fears and limiting beliefs that are holding us back from truly living our best life.
MORE DETAILS
Easter Egg Hunt & Pony Rides!
March 26, 2016
Join us Saturday March 26, between 1 and 3 p.m. for an Easter Extravaganza. Visit the animals, hunt for eggs and take a pony ride!
MORE DETAILS
Calling all Animal Heroes!
March 21, 2016
Join us for March Break Animal Heroes Camp! Children will become real life super heroes as we learn ways we can make the world a better place for animals and people.
MORE DETAILS
PD Day Adventures are back!
February 2, 2016
Join Charlotte for more fun, plenty of outdoor games, Valentines-themed crafts and animal activities!
MORE DETAILS
Intro to Mindfulness
January 16, 2016
Learning to focus the mind allows us to let go of being compulsively busy, preoccupied and anxious, and access our ability to be more aware of our experience in the present moment. More info:
MORE DETAILS
DRILL TEAM CAMP
December 28, 2015
An equestrian drill team is a group of horses and riders performing choreographed maneuvers to music. Riders must be able to walk and trot comfortably and safely in a large group.
MORE DETAILS
Parents' Night Out!
December 19, 2015
No sitter? No worries! We are inviting the kids to Storybook Stables for the evening (between 5:30 p.m. and 11 p.m.) for fun, games, crafts, pizza and a movie!
MORE DETAILS
It's Kool to B Kind!
December 4, 2015
Join us for a fun-filled day at the farm where our focus will be on Kindness: ways we can be kind to ourselves, each other, our communities and of course animals and nature!
MORE DETAILS
Yoga Nidra
November 21, 2015
A relaxation experience you don't want to miss! Join RYI Samantha Sambrooke for a 90-minute Yin/Nidra practice that will leave you feeling rejuvenated and restored. Click for more info!
MORE DETAILS
Tween/Teen Girls' Night!
November 6, 2015
Join us for an interactive workshop to talk about our bodies, media, love, gratitude and empowerment in this three-hour workshop.
MORE DETAILS
Mom & Tots Yoga
October 5, 2015
Join us for Mom and Tot Yoga farm style!

MORE DETAILS
LIVE YOUR MOST VIBRANT LIFE
June 6, 2015
Ladies only one-day retreat! A chance to rest, recharge and revitalize!
MORE DETAILS
Rider Level Horsemanship Classes
February 21, 2015
We will be taking participants through weekly classes covering progressive horsemanship skills from Equine Canada's National Rider Level program. Classes covering Rider Level 1 and 2 topics will take place over 6 weeks - starting Saturday Feb 21st from 9-11 a.m. and continuing each Saturday until April 4th (no class March 21st). For those that wish to continue, four more classes will follow which cover topics from Rider Levels 3 and 4 (April 11th, 18th, 25th & May 2nd).
Cost for the First six weeks -- including your manual covering Rider 1 & 2 = $100 + hst = $114
Cost for the entire 10 weeks of classes - including TWO manuals cover Rider 1 - 5 = $175 + hst = $199.50
MORE DETAILS
Horsemanship classes!
September 20, 2014
Storybook Stables is hosting a four-week horsemanship program for kids ages 6 and up, based on the national P'tit Trot program!
The four-week session will include a beautifully illustrated four-chapter booklet (we will cover one chapter each week), four certificates (one for each level) and some other goodies as well. Each chapter (Bronze Horseshoe, Silver Horseshoe, Gold Horseshoe and Platinum Horseshoe) covers specific topics on horse care. As participants complete each chapter, they can place the matching horseshoe sticker on their certificate. Our two-hour session each week will be divided between classroom and hands-on exercises in the barn.
Classes will run from 2-4 p.m. Saturday afternoons - Sept. 20, 27th, Oct. 4th and 11th. Cost including your workbook, certificates and weekly sessions in $100 + HST ($114).

MORE DETAILS
Expand your relationship with horses - Jr. version!
December 4, 2010
Want to broaden your horse experience? Join us for an afternoon of ground handling techniques, including 'join up' activities, desensitizing games, and other natural horsemanship approaches.
Working with horses on the ground not only provides insight into the nature of horses, but helps improve your understanding – and your horse's understanding – of techniques you are asking under saddle.
Bring your own horse or use one of Storybook's and join us for an afternoon of fun and horse games! Space limited to max. of 6 participants per session.
Ages 8-11 - Saturday Dec. 4th – 1:30 – 4 p.m. - $30 + gst

Training with Confidence, Competence and Integrity
November 6, 2010
This short course will introduce you to a comparative analysis of training systems and offer you tools to consider your own training ideals. Whether you are looking to develop a program that suits both you and your horse or simply compliment your current training system, this course offers something for everyone. All the work will be done unmounted, using horses at the farm. 1 p.m. - 4 p.m. $50 + GST.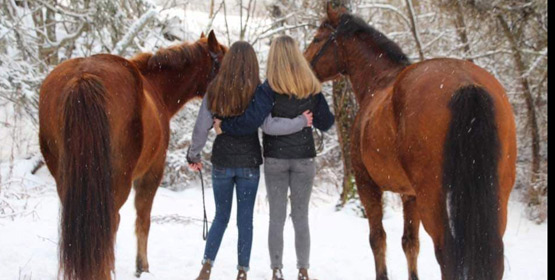 HORSES, FARM ANIMALS, RIDING LESSONS, DAY CAMPS, FAMILY ADVENTURES, NATURE ACTIVITIES, EQUINE ASSISTED LEARNING, WORKSHOPS, TACK & GIFT SHOP and MORE!
Celebrating our four-legged friends and the people who love them!
Set on 24-rolling acres, in beautiful Brookfield,
Prince Edward Island, our forest, fields, streams and marshland offer a perfect return to nature. Some come to Storybook Adventures for the recreational benefits of riding and connecting with horses. Others come to rediscover their natural ability to recharge or to heal and experience themselves at their best. A common philosophy runs through all our programs based on prinicples of connection and self-regulation.

Our animals serve as co-facilitators in many of our activities. They include horses, goats, sheep, pot-bellied pigs, hens, roosters, rabbits, a llama, cow, donkey and more.

Many of our animals are rescues. Once at Storybook, they live out the rest of their natural lives knowing only kindness and compassion. By taking part in our programs you are helping us to care for these animals.

In addition to our popular horseback riding lesson programs, we offer children's camps, family adventures, workshops and other special events that expose families to the transformative power of the natural world - a nice balance in today's tech-rich culture. *Please note we do not offer trail rides*
In 2015 we expanded our services, exploring paths of personal wellbeing. Equine-assisted programs include personal and corporate wellness, growth and leadership, team building, mindful living and other paths of personal transformation.


I just wanted to say 'kudos' to you and your gang. Once again, the kids had an amazing time at camp, and I can't say enough about you and your staff - professional, friendly, and you make parents feel like every kid is special and taken care of. Every morning when we dropped them off, I knew they were safe, would learn something new, and continue to be amazed with the animals and the outdoors.
I also have to say, you run a great stable. The barn doesn't smell 'like a barn,' the animals are clean, groomed, and well taken care of, and every single person is respectful and pitches in. I wouldn't hesitate to board a horse there.
Keep up the great work! - J. Bouchard



OUR MISSION

Storybook's mission is to provide a space for people to disconnect from the fast pace of daily living and reconnect with animals and nature in a fun, exciting and heartfelt way. We offer a peaceful and compassionate farm and the animals, in turn, teach us lessons about love, kindness, leadership and living authentically
.

We also believe in helping animals in need. As such we are home to Sadie's Place, a registered non-profit that rescues horses who are unwanted, neglected, abandoned or abused. This charity is volunteer-run, relies entirely on fundraising and 100 percent of monies raised goes directly to the care and rescue of horses. Please consider making a tax-deductible donation today and like them on Facebook to help spread the word.



INTRODUCING OUR
ORIGINAL, ARTIST-ILLUSTRATED
HORSE-THEMED COLORING BOOKS IN AID OF HORSE RESCUE!!
Dapples and Dreams has gorgeous detailed horse imagery for adults
and children alike.
Hooray for Horses is filled with delightful horse scenes for the young and young at heart.
Books can be ordered through our
Etsy Shop
or picked up at the farm!

$2 from every book sold goes to horse rescue!
Horseback Riding Lessons

Storybook Adventures is a year-round equestrian centre. Our goal, first and foremost, to provide a safe, fun, professional horse experience.

We emphasize correct basics along with a classical approach to understanding the horse. We specialize in hunters and jumpers but whether you are just starting out, are a recreational rider or a serious equestrian athlete, we have a program to meet your needs.

Please see our 'Lessons' page for more info.

Camp programs

At Storybook we believ
e reconnecting young people with nature and animals is of t
he utmost importance.

Studies are showing that contact with the natural world promotes children's mental, emotional, physical and social health - activities in nature go a long way toward keeping kids healthy and happy!
We offer several ca
mps throughout the year: Christmas, March Break and all summer long, as well as Field Trips and special events throughout the year.


Our signatur
e five-day Summer Horseback Riding Camps are a sell-out each year. In addition we offer several other day camps, with a wide variety of themes celebrating animals, nature and the environment.


See our 'Camps' page for more info!


Health and Wellness

In 2015, we added wellness classes and workshops to help adults, teens and children live their most authentic and inspired lives.


Retreats and workshops focus on Rest and Renewal, Passion and Purpose, Mindfulness and Meditation, Leadership and Confidence, and more. Check out our news items on the left side of this page or our Facebook page, under EVENTS
for more info!
Who we are

Owner Jana Hemphill is a nationally-certified riding instructor with more than 30 years in the horse business. She is a five-time provincial show jumping champion and 2002 provincial coach of the year.
In addition to being a mom to three beautiful children, she is a writer/journalist, a certified yoga instructor and has trained in Equine Assisted Personal Development (EAPD), Equine Assisted Learning (EAL), Mindfulness and NLP.
Head coach
Colleen Shaw
is a lifelong student of the sport of horses and a native of Cleveland, Ohio. She is a graduate of

West Texas A&M University, with a Bachelor of Science Degree in Equine Industry and Business and m

inors in Animal Science and Management.
Colleen has competed successfully on both her high school and university equestrian teams as well as on the 'A' show circuit in hunters, jumpers and equitation. She, her horse Cricket and her dog Felicity joined our Storybook team in January 2020.



Barn Manager and CAO (Chief Animal Officer) Kristine Martin is a life long animal lover and advocate with a Master's Degree in Island Studies.
Kristine joined Storybook as a volunteer in the fall of 2017 and her strong work ethic and deep compassion for all animals, large and small, quickly became evident. She was hired on soon after to care for the farm and animals.
Kristine lives in Charlottetown with her husband Steve and four cats, Freddy, Crowley, Tabitha and Aria. Her two goats, Chase and Bowie, live at Storybook!




Assistant Barn Manager and Camp Leader Jodie Blagdon has loved horses her whole life. Jodie has a degree in Sociology/Psychology and plans on incorporating her love of both animals and children into a rewarding career. In the meantime we have been lucky enough to snag her to help run our camp programs as well as keep day-to-day farm operations running smoothly. Jodie lives in Charlottetown with her grandmother and dog, Buddie.



Junior barn manager and assistant coach, Emily Anne MacQuarrie's passion for horses and strong work ethic has made her an invaluable member of the Storybook Team for many years.
At just 17 years of age she demontrates qualities and skills far beyond her years and she has a huge fan club here at the farm!
Emily Anne attends Colonol Grey High School in Charlottetown, lives in Milton with her parents, brothers and dog Tilly and her horse's name is Juliette!


Set on 24 beautiful acres in rural Prince Edward Island, we take great pride in the experience we offer both our four-legged friends and the two-legged ones who love them.




If you have any questions please visit our Contact Us page or email us at
storybookstables1@hotmail.com