About Us
Set on 24-rolling acres, in beautiful Brookfield, Prince Edward Island, our forest, fields, streams and marshland offer a perfect return to nature. Our 50+ animals include horses, goats, sheep, a commercial pig named Fern, several pot-bellied pigs, hens, roosters, ducks, rabbits, a llama, cow, donkey and more.

Many of our animals are rescues. Once at Storybook, they live out the rest of their natural lives knowing only kindness and compassion. By taking part in our programs you are helping us to care for these animals - the animals in return serve as 'co-facilitators' in many of our programs!

In addition to our popular year-round horseback riding programs, we offer children's camps and other special events that expose families to the transformative power of the natural world - a nice balance in today's tech-rich culture.
Our Mission
Our goal is to provide a space that allows people to disconnect from the hectic pace of daily life and reconnect with animals and nature in a fun, exciting and heartfelt way. We offer a peaceful and compassionate farm and the animals, in turn, teach us lessons about love, kindness, leadership and living authentically.

We also believe in helping animals in need. As such we are home to Sadie's Place, a registered non-profit that rescues horses who are unwanted, neglected, abandoned or abused. This charity is volunteer-run, relies entirely on fundraising and 100 percent of monies raised goes directly to the care and rescue of horses. Please consider making a tax-deductible donation today and like them on Facebook to help spread the word.
Announcing Our All New Originals, Artis-Illustrated
Horse-Themed Coloring Books - In Aid of Horse Rescue!!

Dapples and Dreams has gorgeous detailed horse imagery for adults and children alike.

Hooray for Horses is filled with delightful horse scenes for the young and young at heart.
Books can be ordered through our Tack Shop or picked up at the farm!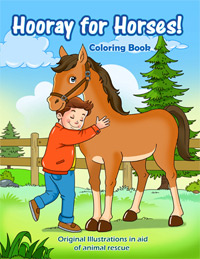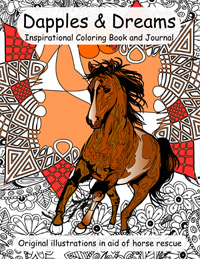 Horseback Riding Lessons
Storybook Adventures is a year-round equestrian centre (indoor and outdoor riding). Our goal, first and foremost, to provide a safe, fun, professional horse experience.

Our riding program places a strong emphasis on developing an independent seat, soft, steady hands and a solid lower leg - we don't skip the building blocks needed to establish a strong foundation. We also believe great riding requires understanding the horse - the mechanics of movement as well as knowledge of horse behavior, to create compassionate, well rounded riders and harmonious partnerships. We specialize in hunters and jumpers but whether you are just starting out, are a recreational rider or a serious equestrian athlete, we have a program to meet your needs. Please see our 'Lessons' page for more info.
Camp programs
At Storybook we believe reconnecting young people with nature and animals is of the utmost importance.

Studies are showing that contact with the natural world promotes children's mental, emotional, physical and social health - activities in nature go a long way toward keeping kids healthy and happy!

We offer several camps throughout the year: Christmas, March Break and all summer long, as well as PD Day Adventures through out the school year.

Our signature five-day Summer Horseback Riding Camps are a sell-out each year. In addition we offer several other day camps, with a wide variety of themes celebrating animals, nature and the environment.

See our 'Farm Animal, and Horse Camp' pages for more info!